Simulation technology development is at the core of our business.
As the world's largest privately held CAE software and HPC technology developer, Altair is focused on developing simulation-driven solutions to foster innovation and improve business performance.
Our
HyperWorks®
simulation and
solidThinking®
design software suites impact product design from the earliest conceptual design stages through product performance optimization. Over the last two decades, Altair has pioneered simulation-driven technologies to generate innovative design solutions for our clients. It has resulted in products that exhibit minimum weight and outstanding performance in industry leading timescales.
High-performance computing (HPC) is an integral part of our product strategy to enable simulation-driven design. Altair works closely with leading HPC facilities, including those in the Top500 supercomputing sites, and has become the largest workload management solution provider globally. Today, our
PBS Works
™ technology, knowledge and hardware partnerships provide the foundation for our
cloud-based computing solutions
as well as
managed appliances
.
Get to Know Altair Technology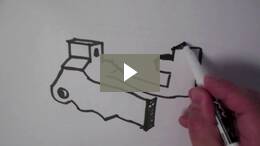 IDEATE & EXPLORE
with solidThinking®


ANALYZE & OPTIMIZE
with HyperWorks®


SOLVE FASTER
with PBS Works™